Pasco County Termite Control Services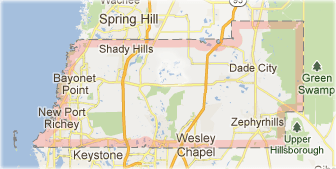 Pasco County, Florida, features a population of about 464,000 as of the 2010 United States Census. This county is bordered by Hernando County, Sumter County, Polk County, Hillsborough County, Pinellas County, and the Gulf of Mexico. Pasco County's largest city is New Port Richey, which is a suburban city featuring beaches, restaurants, shopping, and more. Pasco County is also part of a nine county region referred to as the "Nature Coast". Pasco County, with its 742 square miles, features a wide variety of towns and cities, as well as an abundance of nature.
Know when to get a professional termite inspection
Throughout Pasco County's 742 square miles, there are more than just beaches, restaurants, shopping, and wonderful nature. There is also the threat of termites. Many times, when a homeowner or business owner identifies termites, chances are they have been wreaking havoc on your home or business for a very long time, potentially years. Professional termite control companies offer thorough inspections, and know exactly what to look for and how to identify termites. Two types of termites pose a serious threat throughout Pasco County, subterranean termites and drywood termites.
BugX is your Pasco County termite control professional
Since 2007, BugX Exterminators has been offering quality termite inspection and termite control services throughout Pasco County. Specializing in subterranean termite control and drywood termite control, BugX offers a variety of control methods and services. We offer fumigation services as well as Sentricon termite control. Contact us today to learn more!
Why should I consider BugX Exterminators for termite control?
Termites can be actively feeding on your structure for 3 to 5 years before you know they are there.
They only need a crack 1/32nd of an inch wide to get into your home.
In Florida, there are 13 Subterranean Termite colonies per acre. Subterranean Termites will find your home.
Termites can do tens of thousands of dollars in damage
Termites are not covered under your homeowner's insurance.