Spring Hill Pest Control Services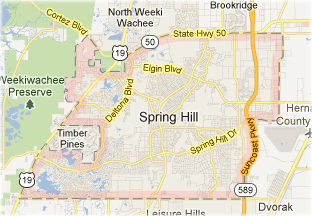 Spring Hill, Florida, located in Hernando County, was founded in 1967 as a planned community. Developed by the Deltona Corporation and the Mackle Brothers, Spring Hill has a population of approximately 98,000 as of the 2012 United States Census. Spring Hill is a quiet suburb, about 35 miles south of Tampa. Spring Hill covers about 55 square miles, and features a variety of beautiful nature as well as parks including Nature Coast Botanical Gardens and Pine Island Park.
Know when to contact a professional exterminator
The 55 square miles that is Spring Hill and it's 98,000 residents is also home to countless amounts of pests and termites. As a homeowner or a business owner in Spring Hill, you may be inclined to opt for a Do It Yourself pest control method when faced with pests in your home or business. These methods seem to offer a quick solution, but in actuality, only mask the underlying cause and issue of a pest invasion. Professional exterminators and pest control experts understand not only how to treat pests and eliminate them, but how to resolve the underlying issue to prevent further pest infestations. Additionally, if you suspect that your home or business is victim of a termite invasion, a professional pest control company is your absolute best line of defense.
BugX is your Spring Hill pest and lawn professional
BugX Exterminators has been offering pest control and termite control services throughout Spring Hill since 2007. We are a full service pest control company, offering treatment for pests, termites, lawn and wildlife. We specialize in the extermination of fleas, cockroaches, ants, and more. We also offer lawn services for exterminating pocket gophers, moles and chinch bugs. We also offer fertilization, insect control, weed control services. Contact us today to learn more!