Citrus County Termite Control Services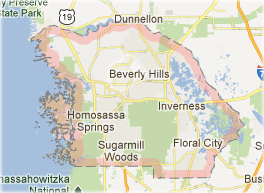 Citrus County, Florida, has a population of approximately 141,000 as of the 2010 United States Census. Bordered by the Gulf of Mexico, Levy, Marion, Sumter, and Hernando counties, Citrus County is approximately 773 square miles. The largest community within Citrus County is Homosassa Springs with an estimated population of 13,000. Citrus County features a variety of outdoor activities including hiking, biking, camping, fishing, and manatee watching.
Know when to get a professional termite inspection
Citrus County, Florida, is home to more than just people and wonderful nature. It is also home to a many subterranean termites and drywood termites. These termites pose a major threat to your home or business, and often times can only be identified by a professional termite control company through a termite inspection. Often times, the homeowner or business owner will notice the threat only after a lot of damage has already occurred to the structure.
Subterranean termites thrive off of moisture and enter your home or building through the soil. Drywood termites do not need to rely upon moisture or the soil to enter your home or business. Both of these termites thrive on wood and other cellulose material throughout your structure.
BugX is your Citrus County termite control professional
BugX Exterminators has been offering termite inspections and termite control throughout Citrus County since 2007. If you suspect termites in your home or business, or are looking for a quality termite inspection, contact our professionals today. We offer a variety of termite treatment solutions, such as Sentricon and fumigation services. We specialize in subterranean termite control, as well as drywood termite control. Contact us today!
Why should I consider BugX Exterminators for termite control?
Termites can be actively feeding on your structure for 3 to 5 years before you know they are there.
They only need a crack 1/32nd of an inch wide to get into your home.
In Florida, there are 13 Subterranean Termite colonies per acre. Subterranean Termites will find your home.
Termites can do tens of thousands of dollars in damage
Termites are not covered under your homeowner's insurance.