New Port Richey Pest Control Services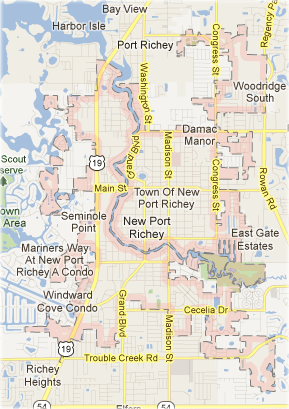 New Port Richey, located in Pasco County, Florida, features a population of over 26,000 covering it's 4.6 square miles. The originated in the early 20th century from the area surrounding Orange Lake. This area was being referred to as New Port Richey, while older, original Port Richey was dubbed "Old Port Richey". New Port Richey is a suburban city, with over 7,200 households, and is included in the Tampa / St. Petersburg-Clearwater Metropolitan Statistical Area. New Port Richey offers a variety of nature and beaches, as well as shopping, restaurants and businesses throughout it's downtown area and Main Street.
Know when to contact a professional exterminator
In addition to the population of over 26,000 in New Port Richey is a variety of pests and termites that are capable of invading your home or business rather easily. When a pest infestation is present, it is difficult for a homeowner or business owner to let it go untreated. Many people first opt for a Do It Yourself pest control method, however, these methods simply mask the problem and do not identify or properly treat the root cause. This results in time and money wasted, as the pest infestation is never properly taken care of.
BugX is your New Port Richey pest and lawn professional
Beginning in 2007, BugX Exterminators has been offering quality pest control in New Port Richey for general pests, termites, lawn pests, and wildlife. Our professionals exterminate ants, cockroaches, fleas, and general pests. Our exterminators can help eliminate pocket gophers, moles, armadillos and chinch bugs from your lawn. We also specialize in lawn disease control, fertilization services, weed control and more. Contact us today for a free quote.