Ant Control in Spring Hill & Surrounding Areas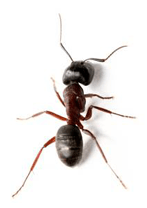 Ants are looking for moisture and food or moldy and rotting wood and are tiny scavengers that can wreak havoc in the area they infest. An ant infestation is one of the most common reported pest control problems. Juvenile ants can turn into adults in a matter of days and a growing ant colony can become a major problem is left untreated. Florida ants can find a number of ways to enter into a location through cracks in the windows or around doors. They eat sugar, dead insects, cheese, grease, meats, vegetables, and peanut butter. Once ants enter into a location it is very hard to remove them. Our professional exterminators offer ant control services throughout Spring Hill, Brooksville, Weeki Wachee, Dade City, Land O' Lakes, New Port Richey, Wesley Chapel, Zephyrhills, Crystal River, Homosassa, Inverness and the surrounding areas.
Identifiying ants
In order for to get rid of ants, you need to identify the species you are trying to exterminate. Termites can easily be mistaken for flying ants or winged ants which can lead to the wrong treatment. Ants have a very narrow thorax while termites have a thorax that is more uniform remaining one size throughout it. Fire ants, pavement ants, pharaoh ants, and carpenter ants in Florida are the most common in the area. They range from 1/16' to roughly 5'8 inch long and construct different types of mounds for nests. BugX Exterminators will be able to help identify the type of ant you have and provide a detailed recommendation about how to exterminate them.
When to contact a trained professional
It is most effective when treatment is applied when it is performed near the nest instead of widely applying it everywhere. BugX Exterminators offers ant control services throughout Hernando, Pasco, and Citrus counties. Our company is ready to perform an inspection and give you a free estimate about how to handle your ant problem. Contact us today.