Flea Extermination Services in Spring Hill & Surrounding Areas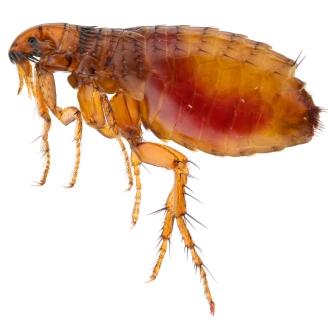 Fleas have 4 stages, eggs, larva, pupa, and adults. Our materials will not kill fleas in the pupa stage. This is why the customer must vacuum and why a second treatment may be necessary for flea extermination services. Our professionals from BugX Exterminators offer flea extermination services in Spring Hill, Brooksville, Weeki Wachee, Dade City, Land O' Lakes, New Port Richey, Wesley Chapel, Zephyrhills, Crystal River, Homosassa, Inverness and the surrounding areas.
When fleas are in the pupa state, they are sensitive to pressure, temperature rise, and carbon dioxide. Houses that may have been vacant for some months will explode with fleas as soon as a human walks on the carpet.
Preparing for a flea extermination treatments
All persons and pets (including birds) are to be removed from the home for a minimum of two hours or until the material is dry to touch. Aquarium pumps must be turned off and the aquarium covered with newspaper.
Prior to treatment for fleas by one of our exterminators, carpets should be vacuumed and the vacuum cleaner bag disposed of in an outdoor trash receptacle. Pet bedding should be replaced or washed in hot water. To control the source of infestation, pets should be treated with a product that is registered for on-animal flea control (we do not provide or apply these products).
Remove toys and other small items from carpeted areas and place them on a table (not on the upholstered furniture as they will be treated by our flea exterminator).
BugX Exterminators is your flea control professional!
Contact BugX Exterminators to learn more about our flea extermination services.