Port Richey Pest Control Services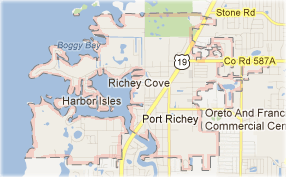 Port Richey, Florida, is located in Pasco County, and features a population of approximately 3,300. Port Richey is a small city, with a small population. Incorporated as a municipality in 1925, Port Richey has retained it's small town charm despite the development of neighboring cities and towns. Port Richey features about 1,400 households throughout it's 2.7 square miles.
Know when to contact a professional exterminator
As a homeowner or business owner in Port Richey, facing a pest infestation can be very troubling and can often spin out of control fast. Your first thought may be to attempt a Do-It-Yourself treatment with pesticides and sprays purchased from a store. However, these treatments do not treat the root cause for a pest infestation, and often times simply mask the problem. Only a professional pest control company can identify, prevent, and treat pests completely.
BugX is your Port Richey pest and lawn professional
BugX Exterminators has been offering pest control services throughout Port Richey since 2007. We offer services for pests, termite, lawn, and wildlife. Our professional exterminators specialize in treating for ants, fleas, cockroaches, and more. Our lawn service experts can address issues of root rot, pocket gophers, moles, armadillos, chinch bugs, fertilization, insect control, weed control, and lawn diseases. We also treat for drywood termites and subterranean termites. We are here to offer you a pest free home or business. Contact us today to learn more.